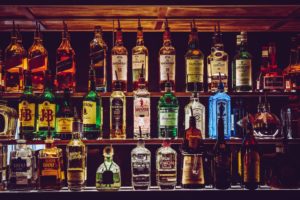 There are plenty of things you can do to your home to increase the value and enjoyment out of it, with one of them being the adding a home bar to your finished basement. Home bars have been a common feature in homes for decades and they're not soon to fade away from being a popular element in a finished basement. There's nothing like coming home after a long day and having a home bar to retreat to or entertaining friends and family on a Saturday night, or on a big game day.
You can design your home bar to be a modern, sporty, casual or even elegant setting in your basement. A home bar not only gives a basement a great focal point, but it can be a great way to add a functional element to a room that is typically thought of as dark, dingy and drab. Keep reading to learn a few tips and ideas that will help get you started in designing your perfect basement bar.
Choose your design theme
Although pretty much anything goes when it comes to designing a bar in your basement, most people use the design theme of the rest of their home to design the bar. For instance, if your home is decorated in a modern décor theme, a fun, modern style bar with modern design elements will flow seamlessly with the rest of the home's living space. Choosing the style of the bar is helpful when trying to plan within a budget.
Consider a wet bar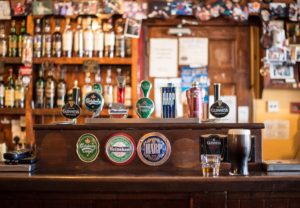 While there are plenty of dry bars in finished basements, wet bars can be very convenient when it comes to the ability to make certain drinks and will make cleanup a breeze. A wet bar is basically a bar with a sink and will require water lines, which is something to consider when making your plans. If you already have a bathroom in the basement, running water lines to your bar won't be a big deal, however, if you want the full benefits of a bar in your basement, it can be worth the extra expense to hire a plumber to get you set up the right way.
Premade or custom made
Sure, there are lots of premade bars that are basically, install-ready. If you are on a tight budget and want something simple and quick, premade bars can be a good solution. Custom bars are more expensive, but you can choose from a wide variety of materials and design ideas that let you take the bar in any direction you want. Granite or marble countertops, subway or mosaic tiles, and shelving and cabinetry can all be custom picked to create the perfect bar that is uniquely you.
Refrigeration
What's a bar without being able to whip up a variety of drinks. If you are wanting to go beyond just a little beer and wine, your choice in refrigeration will make all the difference. A small mini fridge will definitely keep your options and capacity limited, so before you start shopping for a cheap dorm room refrigerator, be sure to shop around for bar refrigerator options so that your bar plans will include the right dimensions and hookups for the refrigeration system you want.
Set up your lounging or play area
No bar is complete without the right atmosphere. To make your basement bar complete, design the room around it to fit the style and function you want. A lounging area with comfortable seating and big screen TV is a great way to relax with friends or watch your favorite show or game after a few drinks at the bar. Game rooms are another popular option for bar areas. If you love the idea of a sports bar, why not continue the theme throughout the room by adding some fun entertainment gaming options. Dart boards, pinball machines, and free-throw basketball hoops are all great ideas for a sports-minded enthusiast. To really get personal, showcase trophies, pendants and other sports memorabilia to give it a real "sporty" appeal.
Bottoms up!
When your basement bar is complete, don't be surprised if it quickly becomes the new, favorite hotspot and hangout among friends and neighbors. You'll love the convenience of having all your favorite drink options right in your own basement bar, and all the fun and entertainment to go with it. So enjoy, and bottoms up!