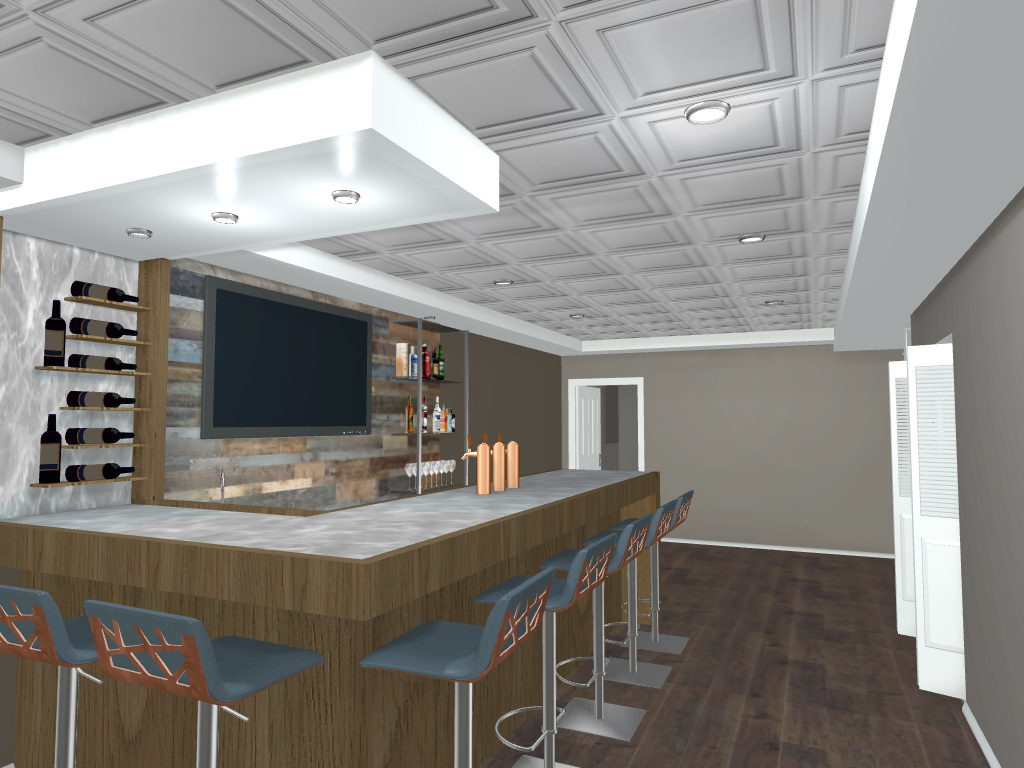 For a homeowner in the process of building a home, adding on a room, or finishing a basement, there is nothing worse than to imagine what the space will look like, only to be unhappy with the finished product and feel that it does not even resemble what they had pictured in their mind. Many homeowners and contractors alike, will tell you that this has happened to them and it is not a fun situation to be in for a homeowner, nor is it always an easy fix for the contractor. The end-result of a situation like this can be either, very unsatisfied customers, or a lot of extra out-of-pocket expense to correct the issues that were either not done right or were not completed to how the homeowner envisioned. One way to avoid any confusion or design mistakes being made on anyone's part, is to utilize one of the most useful tools available today – the ability to create a 3D design.
If you have ever seen a 3D movie, 3D kids' game, or anything else that brings the picture into a virtual reality visual, then you will probably be more familiar with this concept than some. 3D design is one of the most accurate design techniques used by architects, interior designers, landscapers, and homeowners, today. Although it may be an obvious useful tool for those involved in the construction process, did you know that homeowners are also finding this tool to be just as useful when designing a home or room? It's true, in fact, 3D is the fastest and most effective tool for seeing their design ideas in such detail before construction begins, it not only helps in the design decision process, but it helps to eliminate design misconceptions. In the end, home design projects are completed with more accuracy and content customers.
Three ways 3D design can help you redesign or finish your basement
Watch your design evolve in real-time – 3D is so much better than a typical set of blueprints when it comes to finishing or re-designing your basement for many reasons with one of them being that you can see the plan unfold and evolve in real-time. As you create your ideas, the ideas come alive immediately and you can see the end-result as soon as they are entered. Here's an example: Say you want to add a fireplace to the room after your plan was already in place. Once you incorporate the fireplace into the program, you can see what it will look like and if it would work in that particular space. If it doesn't, you can remove the fireplace from the plan immediately and save yourself the grief of discovering you don't like the outcome after it was constructed.
It helps prevent the amount of changes needed during construction – If you have ever been a part of a construction plan, whether for a home, office, or even one room in a home, then you know the number of changes that can happen while the construction process was happening. Being able to see your design as it will look once it's completed allows you to get the full effect of how a room will look and feel once it's completed. Paper blueprints cannot provide either one.
Saves you money, something we all love to do – Making changes to a design after the fact can wind up costing you lots of money you probably don't want to spend, yet you want your room perfect. Since 3D gives you a life-like view of the space you are designing, your decision making will be much more solid than going off blueprints alone. Making more informed decisions at the time of designing the space means less money spent changing your mind down the road.
If you are considering upgrading, finishing, or refinishing your basement, consider using a 3D design for creating the perfect space. Many design planners and architects use 3D today and can help you create exactly what you want for your basement. It's always best to interview both before signing a contract with either to make sure you get the best service for your money.