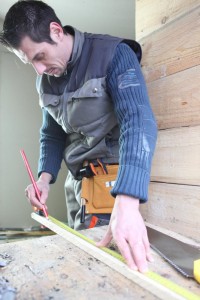 Basement remodeling requires more than just the services of an interior designer. Basements being the overly neglected places, with moisture problems and a lot of infrastructural installations hanging all over the place, can never be a DIY task.
The remodeling of a basement needs to be handled as a project by a professional company who can complete the job in the most efficient manner possible. The company then assesses the needs of the project and the changes asked by the customer.
A good remodeling company will have a list of professionals hired to provide the services such as architects, interior designers, plumbers, demolition laborers, garbage haulers, flooring contractor, carpenters, electricians, insulation contractor, drywall contractor, and painting contractor. All these people specialize in their work and contribute in delivering a stylish remodeled space. A company that has a team of these professional personnel is the one best fit for the job. Following are some of the reasons why hiring a company is highly recommended:
No Headaches
The basement renovation companies leave you marveling the great project delivery. They are well experienced and are ready to handle all the probable problems that might come in the way. Whereas, when you are overlooking the remodeling yourself, you will not only be investing in more money than required, but also will be stuck in between the planning and delivery. Your tasks will range from checking and getting the building permits to handling all the labor yourself.
One-stop Renovation
These companies have dedicated professionals who take care of everything. They have solutions for all the hurdles that come up in basement remodeling . Their employees are highly skilled and have years of experience under their belt which makes the job very easy for them.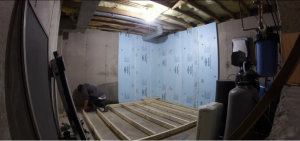 Whatever your basement transformation dream is, our team will make it come true. You can get them to set up a TV room with a home theatre, a game area for different indoor sports like table tennis, a wine cellar, or turn the basement into a gym to keep your fitness regimen up and going. You can even turn it into your dream bedroom!
Money Matters
Hiring a renovation company to remodel your basement might seem costly but in reality, it is more cost-effective than you think. They do the job efficiently by saving your time, lessening the inconvenience caused, using their industry specific knowledge, understanding your needs and budget, getting you supplier discounts on all kinds of materials and accessories, and most of all, leaving your basement with a finished and luxurious look.
They lessen the chances of damages and save you from occasional overhead costs. Many companies also provide warranties for their work.
High Quality
The professional companies are an organization of professionals which means that they do they complete their work in an organized manner. They plan and execute on time.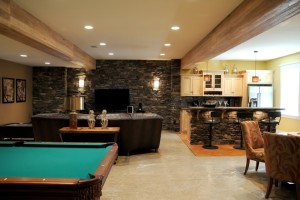 One of the added benefits of hiring a company is that they can visualize your idea of the end product of renovation. Their experts can build up advance 3D designs of your basement
and can help you in making your choices. These companies are licensed and insured, leaving you and your property with a lesser risk. So when you are planning to remodel your basement next time, go around in search of good companies and ask for estimates.
If you are searching for an ideal company to handle your project, then go no further as we possess all the above mentioned qualities to provide you with the best possible renovation services. For more information, contact us !