When we start having children, the dynamics of available space in the home change. When they are babies, you have to make space for high chairs, bouncy seats, swings, and more and before you know it, there is no space left in your main living area. This phase doesn't last long, but as the children grow they need a space to play and store their toys.
When you cross this road and are in dire need for that extra space, there is no better place than the basement to build an amazing playroom for your kids. Of course, this space will change over the years as they grow, so you will want to keep that in mind when designing your basement playroom. You might grow from a preschool playroom to a sport court playroom in a matter of years.
The following are some of the best playroom ideas, with keeping both the kid's happiness and the amount of space in mind:
1. Building a themed playroom can be so fun for kids. Not only can they be in their favorite surroundings, but it can encourage their imagination to grow. This castle style playroom is a great way to get those little minds stirring during play, but you also want to design your basement playroom with the future in mind. In other words, something that is easily changeable to a new theme or style.
2.Basement playrooms should always be structured with space in mind. Be sure that there is plenty of storage space to tuck those toys away. Shelving units with cubbies are a brilliant way to make the most of your space. Remember to keep the cubbies low so the kids can reach the toys, but also to put stuff away when it's time for clean-up.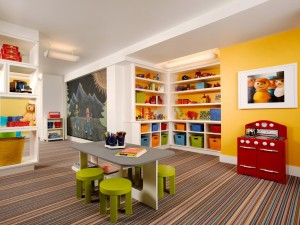 3.For the little all-stars, making a court or field in the basement can bring hours of fun. Whether its hockey, football, basketball, or gymnastics, with the proper padding and equipment, you can give your kids a 24-7 practice field. This hockey playroom was made very plain and simple can be easily changed when it's time to move on to the next phase.
4.The little princess in your life will have to have a special area to host all those tea parties and magical balls. Here your royal highness will have a table to entertain her guests, a private palace play area, as well as plenty of labeled storage for all the enchanted toys.
5.Some boys can be very simple. Just give them their cars, trucks and a place to drive them, and they will be happy. This playroom does just that. There are enough places to store the best engines and plenty of space to build the roads.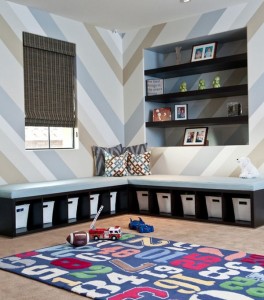 6.Kids love to build forts or have a place to hide out to read, play a game, or just have some quiet time. This cool playroom has it all–from the unique storage cubbies to the private teepee oasis. The light fixture, as well as the room décor all add to the ambience of another place in time.
7.This basement playroom is a dream come true. It's contemporary design and vibrant colors keep the room bright. There is a place to relax in front of the window, a place to be active, and a table for activities, as well as a nice open area for play.
8.Keeping the older kids in mind, there is nothing better than the ultimate basement playroom, or should we say game room. Not only will your house be the cool place to hang out, but you can keep tabs on the kids as well. Some game ideas are foosball, ping pong, air hockey, or pool. Of course, you don't want to forget an area to play video games or watch movies.